AMINO DECANATE 360g
JOD 44.00
AMINO DECANATE is scientifically advanced amino acid complex with DecaDrive delivery has set a new standard in amino acid supplementation. New research reveals that in addition to BCAAs and glutamine, other critical amino acids are needed to ensure maximum muscle growth, recovery and performance.
Description
Guide
Reviews (0)
Description
AMINO DECANATE HELPS YOU POWER THROUGH YOUR WORKOUTS*
MuscleMeds AMINO DECANATE formula is shaking up the way bodybuilders view amino acids. A three-year research project by the MuscleMeds Research and Product Development Team has led them to identify the 19 critical aminos needed to support high intensity workouts and trigger advanced anabolic and anti-catabolic effects.* To magnify the effects of these highly anabolic amino acids necessary to create greater muscle building effects, MuscleMeds added their EXCLUSIVE DecaDrive Delivery.* So get ready to experience the seismic effects of AMINO DECANATE!
AMINO DECANATE: MuscleMeds scientifically advanced amino acid formula is designed to trigger greater anabolic effects and prevent rate limiting amino acid deficiencies and catabolism often experienced during intense workouts.* New research shows that while BCAAs and glutamine are the major players in muscle growth, 15 other amino acids known as Critical Core Amino Acids (CCAAs) also play a critical role. In fact, once you are depleted of any of these aminos your muscle growth and performance can be compromised. This phenomenon is known as the "Rate Limiting Amino Acid Factor." Each serving of AMINO DECANATE provides all 19 critical amino acids for peak muscle building, improving performance and speeding recovery.* To enhance the bio-availability and potency of this highly anabolic formula, AMINO DECANATE features MuscleMeds exclusive DecaDrive Delivery Technology!*
AMINO DECANATE FEEDS THE CITRIC ACID CYCLE FOR MAXIMUM MUSCLE AND PEAK PERFORMANCE*
The Citric Acid Cycle is a critical energy producing biochemical cycle that takes place inside of the mitochondria of cells. When you work out, this effort increases the demand for cellular energy production that is needed to produce muscle contractions and support a variety of cellular functions. During physical activity, the Citric Acid Cycle accelerates to produce the extra energy your muscles and body need for performance. In turn, this places a supply demand on the 19 critical amino acids involved in driving the Citric Acid Cycle. So during workouts, deficiencies in any of these critical amino acids could have a direct negative impact on performance, and even muscle growth. AMINO DECANATE is formulated to contain all 19 critical amino acids needed to fuel and help ensure you perform at your best and increase muscle building capacity.*
AMINO DECANATE
TESTIMONIAL
""Because I train to the max every day, I have to feed my body the right amino acids to grow and recover fully. To stay anabolic, I sip on AMINO DECANATE during every workout. It is powered by BCAAs, glutamine, and other aminos, so I can push through every lifting session!*"
SCIENCE
AMINO DECANATE
AMINO DECANATE is scientifically advanced amino acid complex with DecaDrive delivery has set a new standard in amino acid supplementation. New research reveals that in addition to BCAAs and glutamine, other critical amino acids are needed to ensure maximum muscle growth, recovery and performance. During exercise, your body has a greater demand for aminos to fuel energy production. This highly anabolic formula contains a potent dose of 19 Critically Core Amino Acids designed to maximize anabolic muscle building and prevent catabolic muscle wasting.*
Each serving of AMINO DECANATE provides 5 grams of BCAAs (branched chain amino acids) in a highly anabolic 10:1:1 ratio that contains 10 times the amount of leucine to isoleucine and valine. The latest scientific research shows that leucine is the anabolic powerhouse amino due to its major role in activating protein synthesis and stimulating a higher rate of muscle growth and repair via the mTOR anabolic pathway.* This mega-dose of leucine will increase protein synthesis for peak muscle building and strength enhancement.*
AMINO DECANATE also delivers 5 grams of glutamine, the most abundant amino acid in the body. Extreme stress, such as heavy or high intensity exercise, can severely deplete your natural glutamine levels and increases your body's need for this amino. Glutamine also plays an important role in muscle recovery and recuperation due to its ability to remove excess ammonia – a waste product of hardcore training – from your system.* In addition, when the body is stressed (from high intensity or extremely heavy exercise), it releases the hormone cortisol into the bloodstream. Such stressful physical states greatly increase the need for supplemental glutamine intake.*
Finally, AMINO DECANATE provides 500mg of 19 important amino acids known collectively as Critical Core Amino Acids. Consisting of alanine, arginine, histidine, proline, methionine, threonine, phenylalanine, tyrosine, asparagine, aspartate, cysteine, glycine, serine, trypophan and lysine, the Critical Core Amino Acids exhibit anabolic and anti-catabolic actions to enhance muscle building and reduce catabolic muscle loss. In addition, these aminos feed both the Citric Acid Cycle and Alanine Glucose Cycles for enhanced energy and muscle endurance.*
Revolutionary decadrive delivery
The unique DecaDrive Delivery Technology involves the use of the compounds PEG (polyethylene glycol) and decanoate (as sodium caprate) to increase the amino acid infusion.* PEG is a proven intestinal absorption enhancer used to increase the solubility and dissolution of amino acids, thereby promoting overall conditions for improving transcellular and paracellular routes of absorption.* Decanate is also a clinically tested intestinal absorption enhancer using bio-dynamics, including increasing permeability by enlarging the tight paracellular junctions (openings), thereby allowing greater uptake in the intestines and transport of aminos into the bloodstream.* AMINO DECANATE's amino acids are also micronized to reduce particle size and further optimize intestinal transport through these pathways. The end result is increased solubility, dissolution and enhanced absorption at key locations within the mitochondria for faster and more potent amino acid utilization.*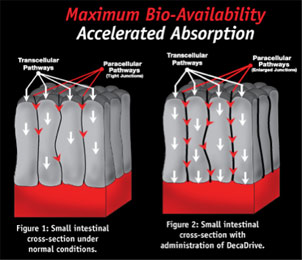 This illustration indicates the enhanced absorption of amino acids using the DecaDrive Delivery through the transcellular and paracellular pathways. As you will note, the decanoate increases the space between the tight junctions of the paracellular pathways. In addition, by reducing particle size and improving dissolution with PEG and micronization, the uptake of amino acids in the intestines is enhanced through both transcellular and paracellular routes of absorption.*